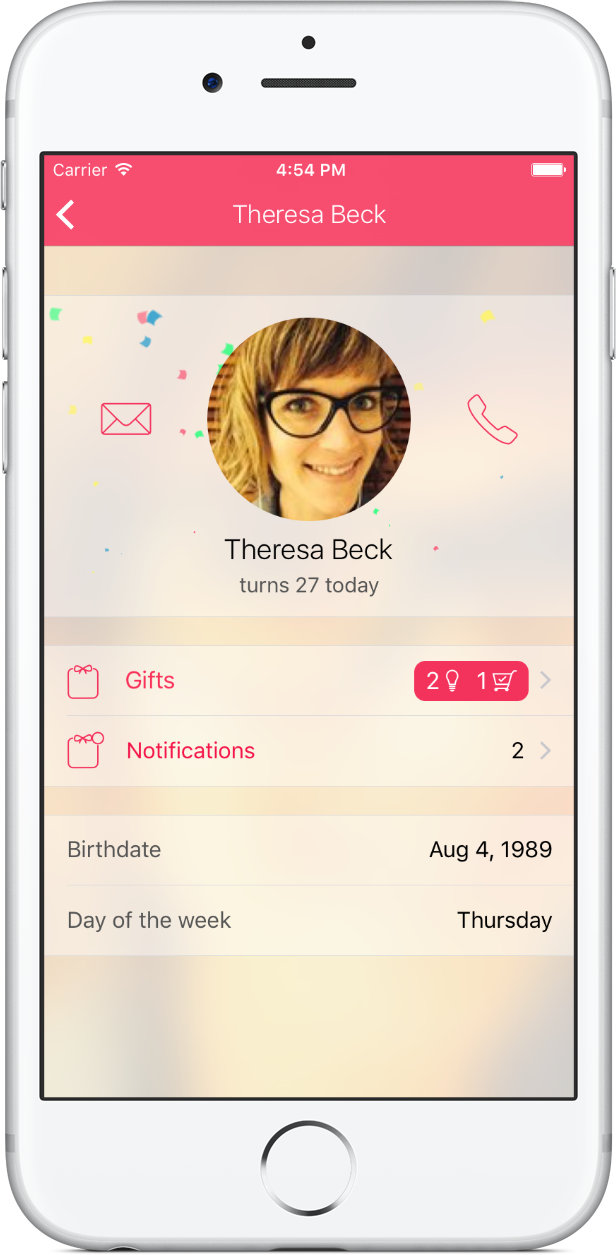 🎂 Birthdays
Birthdays should be the happiest days for people (okay, maybe there are days that are even happier). And what makes people happier than being remembered? Birthdays helps you to keep track of all things birthday for the people you care most about. Including gifts and stuff. Get reminded if you forgot to buy something for your mom or add new ideas to a collection of gifts for your friends. There is so much more about birthdays than being notified by your calendar or writing a wall post.
Overview — This one is important: get an overview of all upcoming birthdays plus the weekday they are on. Preparation is everything!
Messaging & Calls — Since wishing someone a great birthday is essential of being a great birthday buddy, Birthdays will let you do exactly that in no time (read: two taps).
🎁 Gifts
Buying a birthday gift for someone expresses how good you know a person and how deep you care about him or her. Selecting the perfect gift can be quite a challenge and involves lots of ideas and thoughts. Birthdays will do all it can to assist you in this process with keeping your ideas, attaching photos to them and remind you to buy them.
Photos — Nothing describes an object better than a picture. Here you go.
Costs — Know how much you may need to invest to make someone happy!
Buy Gifts with Friends — Easily divide the costs of a gift so everyone knows their part.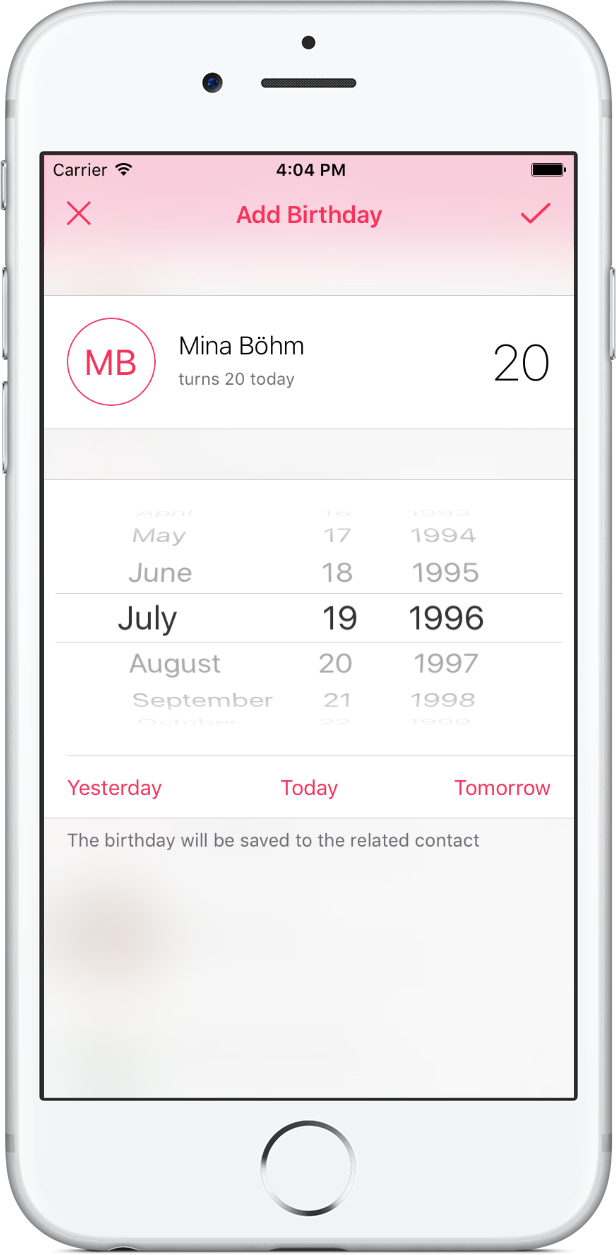 📱 Integration
Birthdays uses the contacts on your phone, the best and most central (and private) place. Make greeting calls or send a nice text message right from within the app. Quickly glance at upcoming birthdays with the Today Widget. And add birthdays faster than ever without the hassle to dig through the Contacts app. Following technologies are used to achieve a great integration:
3D Touch — Add a birthday in an instant directly from the Homescreen.
Sharing — Quickly tell a friend about your gift ideas and plan them together.
🔨 Security & Updates
Since birthdates are private data, they never depart from the device — everything happens locally (except when you use Cloud syncs or use the share functionalities). Also, since the app is in constant development, Birthdays will likely receive more updates with some of the planned features being:
Custom notifications — Assign individual notifications to a person with a custom note.
More gift options — See the place to buy a gift on a map, share costs with uneven amounts and so much more!
Spotlight — Find every birthday or gift in a swipe and some taps.